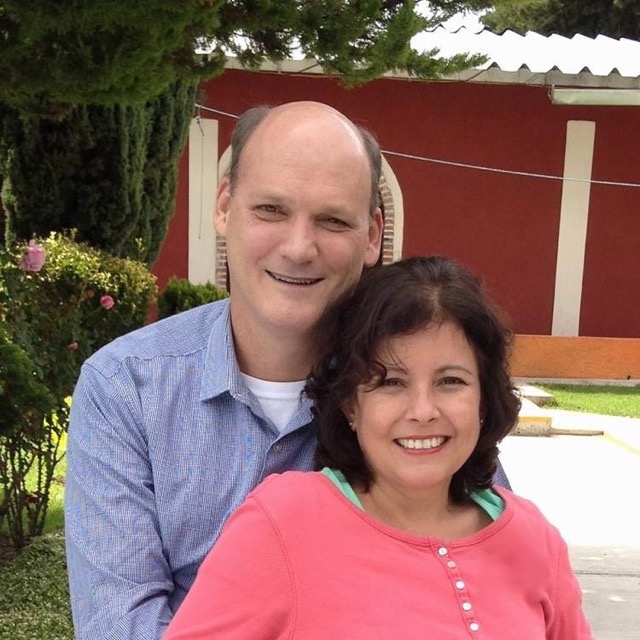 Timothy Striebeck grew up in south Texas and attended the First Baptist Church with his mother and siblings. At age eight, during a revival meeting, he understood his lost condition and trusted Christ. He was baptized a few months later. Tim's desire to be a missionary began in his teen years when he read Jungle Pilot: The Life and Witness of Nate Saint. He attended Baylor University on an ROTC scholarship. After graduation and Officers Training School, Tim was accepted into Air Force Navigator School. His desire was to eventually become a missionary pilot. He obtained his private license, but due to a vision problem was disqualified before completing training. He was honorably discharged after seven years active duty.
Tim supported missionaries financially, but his desire to be one simmered on the back burner until he signed up for his church mission trip to Costa Rica in 2007. Two things happened: his desire to be a missionary was revived, and he met Lorena Cob. He made two more trips there to do evangelistic ministry. In 2008, that beautiful young Costa Rican girl became Lorena Cob de Striebeck! God united the missionary desire of two people into one flesh.
Lorena grew up in a Christian home with a father who read the Bible to his family. She was saved at sixteen years of age. She graduated from the University of Costa Rica as an architect. In college, she felt the need to trust Christ completely and stand for Him. Lorena taught Sunday school, taught at an orphanage, helped churches with building projects, and did research into unreached people groups at a mission center. Having a sister who worked as a missionary in China and later with her husband among the Cabecar tribal group in her own country grew Lorena's missionary desire. She saw firsthand what a translation of God's Word in the heart language can do for an indigenous group. Due at least in part to conversions to Christ and the change in life styles, the Cabecar group increased from two thousand to ten thousand in a few years! Lorena also spent two years in Uzbekistan teaching missionary children. Because she speaks excellent English, she was often in demand as an interpreter for visiting preachers.
Along the way, Tim learned the importance of a textually pure Bible, such as our King James Version and the received Greek and Hebrew texts that underlie it. Finding the BBTI website, he saw that we hold the same convictions. The website also showed him that there are still thousands of Bibleless people groups. At that point a desire to be a Bible translator was born.
After graduation from BBTI in 2012, the Striebecks visited Oaxaca, Mexico, a country with over 320 languages. They arrived in the midst of a political struggle that caused power outages and roadblocks. With power lines cut and no radio, they knew nothing of the approaching hurricane that caused more road-blocking mudslides. It looked like the devil was trying to scare them away, but God protected them through it all. The Lord led them to a group of Mazatec believers who wanted a pure, formally translated Bible in their language.
Tim puts frijoles and tortillas on the table by "tent making" as a computer consultant while he helps guide a group of godly Mazatec Bible translators. They hope by March to have finished the first draft of the entire New Testament!
People in that region tend to be fanatical about their old religion, not accepting of people like Tim and Lorena who bring a different one. Lorena and the children in her neighborhood Bible club made and decorated Christmas cookies and delivered them to the neighbors. The dear folks in their barrio have not all come to faith in Christ, but they are now much friendlier! Pray that soon they will read and trust the scriptures and be saved.