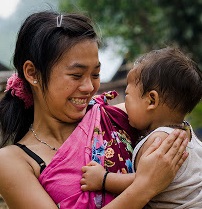 The 4,127,124 Banjar, Indonesia's tenth largest ethnic group, makes up 1.7% of the nation's total population. They live mainly in Southern Kalimantan. There are also over a million Banjar in Malaysia.
The Banjarese language reflects the influence of the Dayaks, the Javanese, and the Malay peoples from whom the Banjar descended. This is a very active language; many of its speakers lack fluency in Indonesian. The script is Arabic.
This people has been dominated by Buddhist, Hindu, and Islamic kingdoms in turn. They have retained Islam which dominates their lives; 99.9% are Muslim. However, some Buddhist and Hindu beliefs and customs still exist.
Though friendly, the Banjar withdraw from others, preferring isolation to anything modern. They live in stilt houses along the rivers and coast. The rice grown in the tidal swamp is a staple. The fish, fruit, and vegetables sold by women from their small boats are also important to their diet. Rubber and pepper are export crops.
There are no Banjar scriptures, and no known missionary activity among them. Pray for God to raise up laborers.
Spring 2016