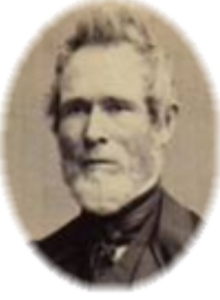 Nathan Brown, the oldest of five boys, was born on June 22, 1807, to devout Baptist parents. At age nine, he was convicted of his sinful condition after attending local revival meetings, trusted Christ as his Savior, and was subsequently baptized in a stream.
Brown graduated from Williams College at the top of his class and married  Eliza Ballard on May 5, 1830. They moved to Brandon, Vermont, where he edited a religious newspaper. As he prepared to print letters from Adoniram Judson, the Lord  burdened him and his wife for Burma. "What Christian," he wrote, "can read the late appeals from Mr. Judson, and not feel a desire to go? I cannot think of staying back."   After seeking his pastor's and parents' advice, he resigned his job and entered Newton Theological Institution.  He and Eliza sailed for Burma under the Baptist General Convention on December 22, 1832.
Mr. Brown worked two years in Burma with Adoniram Judson. Then he was sent to Assam, India, where he translated the first Assamese New Testament, baptized numerous converts, planted Baptist churches, and appointed national assistant pastors. Due to shattered health, the Browns returned to the U.S. in 1855. Mr. Brown wrote, "One of the hardest partings (and I have had many) I ever experienced. The native women and girls wept as if their hearts would break. We sorrowed most of all that we should see each other's faces no more. … If God in mercy restores my health so that I can again be useful, I will return and labor for them till life ends, with all my heart."
Mrs. Brown died in 1871. Mr. Brown later remarried, and at age 65, he and his second wife went to Yokohama, Japan, to assist in church planting and Bible translation. Brown resigned from a translation committee that insisted on translating baptism with the Japanese word for sprinkle. He began his own translation, completing the very first Japanese New Testament in 1879. He died in Japan at age 77, leaving eight Baptist churches and numerous converts. The Bible he completed is an accurate translation and is still referred to today. May we also "labor till life ends."
"As yet I am as strong this day as I was in the day that Moses sent me: as my strength was then, even so is my strength now, for war, both to go out, and to come in. Now therefore give me this mountain…" (Joshua 14:11-12a)
Work Cited: Brown, Elizabeth, W. The Whole World Kin: A Pioneer Experience Among Remote Tribes, and Other Labors of Nathan Brown.