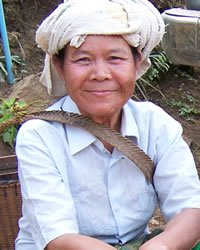 The Karen tribe was the lowest class in Burma. Called the "wild men of the jungle," they were oppressed and despised but were not without hope. They had a cultural legend that a messenger from across the sea would bring them the lost book written by the Creator-God.
George Dana Boardman was born in Livermore, Maine, in February 1801, and was the son of a Baptist pastor. Sarah Hall was born in November 1803, and converted as a teenager. Both George and Sarah were burdened for the lost, especially those in Burma; this common interest brought them together. They were married on July 3, 1825, and thirteen days later sailed to Calcutta, India, where they served for nearly two years. In March 1827, they moved to Amherst, Burma, to assist missionary Adoniram Judson. God was about to send them to the Karen.
Ko Tha Byu, of the Karen tribe, was born c. 1778. He became an outcast of the outcasts, a leader of criminals. By his admission he killed or assisted in the murders of at least thirty people. Ko Tha Byu was sold into slavery because of a debt he couldn't pay, was purchased by a Baptist preacher who wanted to help him, and (under the ministry of Judson) was finally redeemed by the blood of Jesus. The Creator-God was preparing him to reach his people.
When the Boardmans relocated to Tavoy, Burma, Ko Tha Byu accompanied them. This principal city and Buddhist stronghold had 9,000 residents and nearly 1,000 pagodas. Among the Burmese they saw only a few come to Christ, but the nearby Karen group seemed anxious to hear the gospel. They saw the messengers as a fulfillment of their legend, and soon many were coming to faith in Christ.
In February 1831, Boardman was asked to take part in a baptismal service in a distant Karen village. Though very sick, he and Sarah agreed to make the three-day trip. Too weak to walk, the believers carried him in a litter on their shoulders. Upon arrival, he found about one hundred believers; nearly half were candidates for baptism. The day following, they began the long trip back to Tavoy, but he never arrived. Near the end of the second day, he passed into eternity. Upon hearing of his death, Judson wrote in his journal, "Dear Brother Boardman has gone to his eternal rest. He fell gloriously at the head of his troops, in the arms of victory. . . "
George Boardman lived barely thirty years. His missionary service lasted only six years. But he was greatly used as a messenger from over the sea to bring the lost book of the Creator-God to the Karen people. In 1910 there were 774 Karen churches with 50,000 members.
Source: This Day in Baptist History, by David L. Cummin, Vol. 2, 3