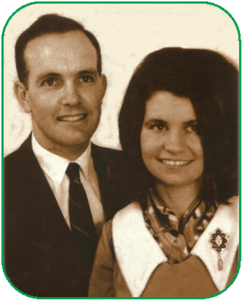 Born in 1941 in Duncan, Oklahoma, Thomas Laymon Sloan, M.D., grew up during the post-depression years. His unbelieving father permitted Tom's mother to take him to church regularly. He was saved at age seventeen when a pastor led him to the Lord. Tom was a quiet but radical young man, criticized by some as an eccentric fanatic. He graduated as a pediatrician and planned to enter the medical field, until God changed his plans.
Billie Jean Ashcraft was born during WWII. Her mother was a believer. Her father was a drunkard until, when she was six months old, he was saved.  Eight years later, he became pastor of a church in Waxahachie, Texas, where Billie was saved at age eight. During her teen years, her family moved to Mexico as missionaries. The change was difficult, but in time she sensed God calling her to be a missionary in Mexico, and to that she gave her life.
Tom met Billie on a short-term missions trip in Mexico where their initial attraction began. Shortly after, Tom felt called to minister in Mexico and changed his plans accordingly. Tom and Billie married in 1969, and they arrived in Mexico in 1972. Their personalities were incredibly different: Tom was a quiet man and a poor speaker, while Billie was a fun-loving, almost reckless young woman.
Their story is one of strong commitment to God and to each other. The story of the five churches that were started, the nine men saved who became faithful pastors, the jail ministry, and the thirteen missions that came of their work in Mexico cannot be told apart from the story of their life together as the man who loved and served God with all his heart and the loyal woman who served by his side. Tom contracted Parkinson's in 1981, and in the twenty-four year battle that followed, Billie remained his faithful lover and caregiver until Tom's death in December 2005. During those years, they stayed on the field and stayed in love; suffering strengthened their love.
Tom and Billie had eight children who love the Lord, most of whom are missionaries around the world. The Sloans' story reminds us that God uses ordinary people who answer the call to love God and one another with a pure heart fervently.
"..I can't tell the story of Tom's life without telling mine… He was who I was, and he made me who I am."  Billie Sloan