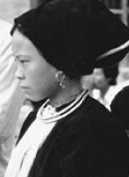 Hidden deep in the mountains of southwest China, the Bunu people are like a treasure waiting to be found. Many of the small Bunu villages are inaccessible by any type of vehicle. The Bunu went into hiding when they were forced to flee the Hunan valley due to violent persecution from the Han and Zhuang peoples.
The kinship system of the Bunu is matrilineal, meaning they trace their descent through their mother's line, not their father's. Bunu women are the leaders of their homes; when marital problems arise, the man may go back to his family and the woman may find another husband. If this occurs, the man has no rights to any property.
Bunu legends passed down for generations have a worldview based on a chaotic world before their god, Pan Hu, built the heavens and created the earth and hint at a worldwide flood.
Since the Bunu have little contact with the outside world, it is understandable that they are the largest people group in China without a single known church. A significant hindrance in reaching the Bunu is the language diversity. Currently, there are no Scriptures in any of the Bunu language groups, leaving over 450,000 people without the Word of God in their heart language! What will it take to reach these people? Someone must penetrate geographical, cultural, and language barriers with the powerful Word of God! Will it be you?
Summer 2019