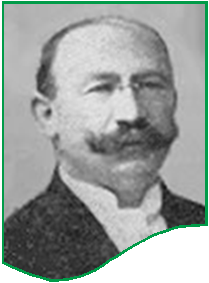 Solomon Ginsburg asked his father—a Jewish rabbi—this question when he was only thirteen. Despite being soundly slapped in the face, his interest in the prophesy of Isaiah 53 did not die. As a young man, Ginsburg left his native Poland for London, England. There, a fellow Jew found him on the street and explained Jesus as the Messiah prophesied by Isaiah. After reading the New Testament, Ginsburg trusted Jesus Christ as his Savior, but was promptly disowned and cursed by all his relatives. He bore it gladly, recalling that Christ had been made a curse for him. Even several assaults by orthodox Jews in London could not dissuade him from his new-found faith.
As Ginsburg considered what the Lord would have him do with his life, he remembered the Jews' biggest stumbling block to accepting Christianity. They pointed to the Catholics who worshipped and prayed to idols, and proved to their children that no people who broke one of the Ten Commandments possessed the "true religion." Now that Ginsburg knew the truth about the saving blood of Jesus, he decided to spread the glorious news in Brazil, a bastion of Roman Catholicism.
Ginsburg first spent several months in Portugal studying Portuguese until he was fluent in both the language and the beliefs of the Roman Catholics. He wrote two tracts and dispersed hundreds of copies before he departed for Brazil, literally fleeing from Portuguese Jesuits. To support himself in Brazil, Ginsburg printed and sold Bibles, tracts, and other material everywhere he could. Using his Jewish business skill of persuasion, he accosted Catholics along the road, on the train, in prisons, and even coming out of Mass. As Ginsburg simply preached Jesus and His cleansing blood, soon hundreds and then thousands trusted Christ. He traveled from town to town holding open-air meetings or playing hymns on his little organ in the middle of the marketplace. When one of Brazil's most notorious murderers asked Ginsburg to come to his house to tell him more about Christ, Ginsburg gladly went, though many warned him of the great risk. Hearing the gospel, the man fell down weeping over the guilt of his sin and confessed Christ as his Savior.
In thirty years of ministry, Ginsburg helped to establish 820 self-sustaining Baptist churches with over 20,000 members. Although his family had forsaken him, and he faced persecution even in Brazil, the simple joy of knowing his Messiah carried him through it all.
For more information, visit wholesomewords.org/missions/iginsburg.html.