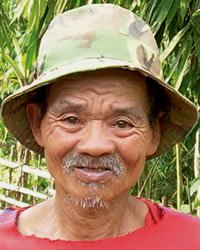 The Lembak, or Cul (population 231,000), live primarily on the island of Sumatra in Indonesia.  They are  farmers whose main crop is rice, though some do farm and sell coffee and rubber. Families are close-knit; two family members accompany anyone leaving Sumatra to receive further training or work experience. When they finish their training, all three family members return.
They call themselves "Sindang Kelingi" or "Lembak Sindang Merdeka" which means "free." This is ironic as the Lembak people are largely Muslim, a religion very different from their traditional animistic ethnic religion. They are still in bondage to sin and are plagued with demonic activity. The Lembak people call on shamans to heal sickness and cast out demons. Sadly, these people have embraced a false religion that offers no real freedom from spiritual darkness.
These hard-working people need the freedom that comes from the gospel of Jesus Christ. However, there is no Bible translation of any kind. There are no missionaries to teach what the Bible says about the Lord and Savior Jesus Christ, the only One who can truly deliver them from their sin and end the demonic possession and oppression that plagues them. Please pray for the Lord of Harvest to send missionaries to the Lembak people and  to break the bonds of Islam and animism, allowing them to hear the gospel. Ask God to prepare the Lembaks' hearts to receive the truth.
Fall 2017