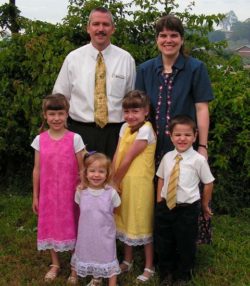 Dan and Jennifer Olachea are sent out by the Central Baptist Church of Ocala, Florida. Dan grew up in the home of a Baptist pastor and made a profession of faith at an early age. In his teen years, when doubts about his salvation surfaced, he settled the matter by reaffirming his faith in Christ. Jennifer's mother was saved as a result of door-to-door soul winning, and shortly after her salvation, she led six year old Jennifer to Christ. What a blessing to be saved as children and raised in godly homes!
Dan graduated from Clearwater Christian College, majoring in English, and Jennifer graduated from the University of Florida with a degree in communication disorders (speech therapy). Both are skilled musicians and excellent students.
The Lord directed the Olacheas to Uganda, East Africa, and they attended BBTI in the fall of 2001 where they received specialized training for the task God was leading them to do. Their plan was to work with the two and one-half million Banyonkore people, who speak a Bantu related language called Runyankore. They especially wanted to give the Runyankore language a faithful translation of God's word based on the Greek Textus Receptus. There is a translation in this language, but it is unacceptable to the Bible-believing Christians because it is based on a corrupt text. (Many Bible translations being done today are based on the same Greek text that underlies such English Bibles as the RSV, NASV, NIV, and the so-called "Bible" of the Jehovah's Witnesses. Most translators today also use an inferior method that results in a paraphrase rather than a formal Bible. Thank God for a few people like the Olacheas who believe that God's people deserve better!)
The Olachea Family set a steady course toward Uganda, arriving there in January of 2005. The official language of Uganda is English, and many people speak it fairly well. However, they also have over 40 other languages, and all people need God's word in their native tongue. Dan has been working with men in a Bible institute, training them in Greek and Bible translation principles and preparing them to be Bible Translators. The men are excited about beginning this revision work. Pray for Dan this year as he guides these faithful preachers through the difficult task of moving God's word from one language to another. There is a good possibility that they can work on the Runyankore Bible and two other revision projects at the same time!
Pray that God will continue to allow this wonderful family to meet their Bible translation goals as they serve God in many other capacities such as preaching, music, prison outreach, Bible institute teaching, deaf ministry, and door-to-door visitation.