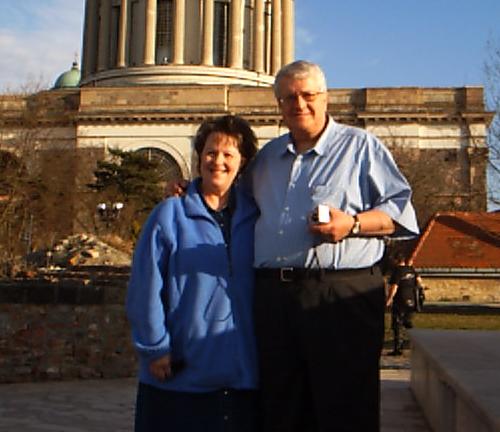 Colin was nineteen years old when he met with his pastor in his study and realized he was trusting a false assurance instead of the Savior. Sandi, encouraged by an older sister, responded to the invitation at church when she was ten. Colin and Sandi have spent their lives taking the news of their Savior to other places.
After Colin's graduation from Midwestern Baptist College, the couple worked four years in Mexico with senior missionary Ralph McCoy. Returning for furlough, they recognized they needed specialized training in order to minister to tribal people and attended Baptist Bible Translators Institute.
The Lord sent Colin, Sandi, and their four children to the Philippines where they contended with trials such as a serious auto accident, amoebas, cobras, and Marshall law under Pres. Marcos in 1981. When their home flooded, Sandi wrote of her discouragement, "I wanted to throw in the towel and head back to a normal life, but the Lord gave me the verse in Romans 8:18; and it really broke my heart, because I forgot it was worth the trouble."
And it was: they planted a church in Bayugan, teaching the people to work to buy land and build their building, and Colin put his BBTI training to work by translating the books of John and Romans into Cebuano. The church went on to establish several more churches, and the translation work was carried on by Filipino pastors who completed the rest of the New Testament.
The Christensens were in their forties when they arrived on their third field of service and began the study of Hungarian. It proved to be their toughest language yet; and Colin, a gifted linguist, wrote of it, "There are 14 written vowels and no allowance for 'sluffing' through on pronunciation. You must be right on the money or they won't know what you're talking about as you've probably said another word."
In Hungary, they've worked in two cities, pursuing church planting through many ministries: city-wide distribution of scripture, Friday night English/Bible study classes, revival and evangelistic campaigns, summer family camps, rest home services, and separate monthly meetings for men, women, teens, and children. In true BBTI spirit, the Christensens are always ready to help others. Colin drives an hour to teach in another missionary's Bible college and has also filled in preaching when someone else needed a furlough.
Fun-loving Sandi found it hard to adjust to the Hungarian people's reserve. Colin explains another obstacle, ecumenicalism. "Because most churches were persecuted under communism, they want to stick together in joint services, etc. Since 55% claim to be atheists, they feel that anyone who believes in God is a 'Christian.' Winning souls to Christ has been slow, but very rewarding as people see their need of becoming born again." Is it worth the trouble? The Christensens say yes!
Spring 2007