by Brian Johnson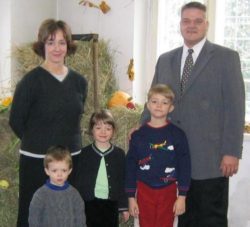 The Johnson family, like the men in Luke 5:18 who bore the sick of the palsy, have used great creativity in seeking to reach souls for Christ.
Sept. 2000 – Correspondence Course
Each week that passes, we find more responses in our mail box from people who want to enroll in our home Bible study courses. I believe that this will be an effective tool to reach people for Christ. We are placing an ad about these free courses in our largest circulating newspaper.
June 2001- Medical Outreach
We had a medical team here in Utena. The doctors saw a total of fifty-seven people who are now new contacts to follow up on. Several Lithuanian Christians witnessed to those waiting to see the doctors, and there were five professions of faith.
November 2002 – Music Festival
We hosted a "music festival" for the Independent Baptist Churches of Lithuania with seventeen church groups participating. We advertised in the local paper, we hung posters all over the city, we handed out invitations, and God blessed us with just over fifty visitors. We were able to preach a clear presentation of the Gospel and give each visitor a packet of literature.
May 2003 – Lithuanian World Music
This is a seven-day festival filled with traditional musicians and singers. It is estimated that there will be an excess of 100,000 people attending. We designed a new high quality tract for this festival. It ties together the Lithuanian's tradition with their need for the eternal Savior.
July 2003 – Baseball Clinics
I have recently found out that many young people in Lithuania have a desire to learn and play organized baseball. We recently held six baseball-training clinics, and they were a huge success! We were able to gather 135 kids and teach baseball basics as well as preach the Gospel.
June 2004 – Winning the Lost
A recently-saved young man is really excited about telling others about his Lord and Savior. He has led at least three other young people to the Lord and has had several visitors with him in church meetings.
December 2005 – Canvassing
Since canvassing the city of Zarasai with literature in late August, we have had a new woman named Jolanta faithfully attending the services. She trusted Jesus as her Savior on November 6th and was baptized the following Sunday.
March 2006 – Giving to Missions
The members of Utena Baptist Church have been giving sacrificially to missions for just over four years. They currently support one Lithuanian missionary and also help finance the work in Zarasai. Last year they gave nearly $900 USD to missions, and this year they have made a commitment to give just over $1,500 USD. This is a large step of faith for these people; they are excited about mission work!
Summer 2007